Drive a Bus
RCSC Bus Drivers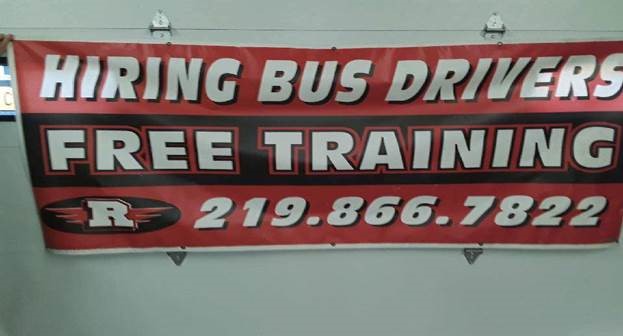 The procedure to obtain a School Bus CDL/Yellow Card is as follows:
Obtain a Commercial Driver License Manual at the BMV or on-line at http://www.in.gov/bmv/files/CDL_Manual.pdf to study. Then go to the BMV to take the CDL general knowledge test with passenger transport/school bus endorsement - after passing this you will receive a permit good for 6 months. There will be a fee.

Bring your permit to the Administration Office at

900 E. Washington St. to have it copied along with your driver's license & social security card. You will be given an application to fill out & an expanded criminal history & driver's license check will be ran on you. You will also let the Transportation Secretary know what day you plan to go to the Working Well Clinic (across from the Franciscan Hospital in Rensselaer) to take your DOT/CDL physical, to be paid for by the Corporation.

A pre-employment drug screening will be scheduled at the same location by the Transportation Secretary & will be paid for by the Corporation prior to beginning training on the roadways.

You will be required to complete a Physical Performance Test in a bus with the Driver Trainer.

The observation/driving record sheet will be completed next. 4 hours/riding with a licensed bus driver trainer, which may include extra trips, bus route time should be the majority of the 4 hours (which may include students on the bus). Eight (8) hours of driving with a licensed bus driver (which may NOT include students on the bus). This may only be done with a CDL permit, state fitness certificate & physical performance test are completed & a blue card in your possession.

Complete all ELDT requirements. Register for the Clearinghouse.

Attend the 3-day school bus driving school. Register for one of the many 3-day schools in Indiana on-line at the Administration Office with the Transportation Secretary.

A driving skills test must be done with a school bus. A licensed driver

trainer must accompany the new driver to a testing site (Automedon CDL Testing in South Haven) and the test is administered by a State appointed person.

After passing all aspects of the testing, the driver will then return to the License Bureau with the signed permit and will then receive the CDL Class A or B license. (There will be a fee).

You will receive your yellow card after completing the 3-day school from the Transportation Secretary, as well as a check from the Corporation for obtaining this card.